Trade fair for Sports and Business Aviation
Air Magdeburg 2010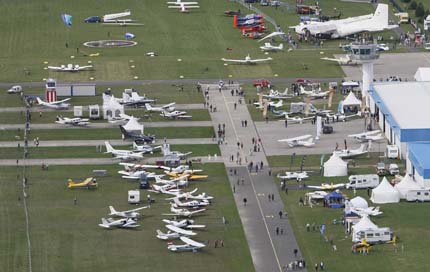 Information for visitors, exhitiors, the trade... you find under www.air-magdeburg.de
Arrival- and departure procedure


EDBM
from: 2010/09/03 00:00 until: 2010/09/05 23:59

TO ENSURE THE SMOOTH FLOW OF AIR TRAFFIC FROM/TO THE MAGDEBURG
AIRFIELD ON THE OCCASION OF THE AIR MAGDEBURG TRADE FAIR FROM 03
SEPTEMBER 2010 TO 05 SEPTEMBER 2010, THE FOLLOWING IS STRONGLY
ADVISED FOR INBOUND VFR TRAFFIC.

1. THE ORIENTATION POINT -NORD- N521125 E0113725
(INTERSECTION B189/BAB2) HAS BEEN SET UP FOR APPROACHES FROM THE
NORTH AND -SUED- N520012 E0113634 (INTERSECTION B71/B246A)
HAS BEEN SET UP FOR VISUAL APPROACHES FROM THE SOUTH.

2. IT IS RECOMMENDED TO FLY THE DOWNWARD LEG ALONG ROUTE 1 FROM
ORIENTATION POINT NORD WHEN USING LANDING DIRECTION 27 AND ROUTE 2
(SEE CHART) WHEN USING LANDING DIRECTION 09.

3. IT IS RECOMMENDED TO FLY THE DOWNWARD LEG OF THE CURRENT LANDING
DIRECTION DIRECTLY FROM ORIENTATION POINT SUED.

4. LISTENING WATCH ON 119.300 MHZ MAGDEBURG INFO SHOULD BE
ESTABLISHED AS SOON AS POSSIBLE TO BE ABLE TO GET AN IDEA OF THE
LATEST TRAFFIC SITUATION FROM THE RADIOTELEPHONY COMMUNICATIONS
OF PRECEDING AIRCRAFT.

5. IT IS RECOMMENDED THAT THE FIRST CONTACT TO MAGDEBURG INFO BE MADE
AT THE RESPECTIVE ORIENTATION POINT. IF ALL NECESSARY INFORMATION WAS
ALREADY OVERHEARD, CONTACT IN THE FORM -CALL SIGN OVER NORD, RUNWAY
27, QNH XXXX- IS SUFFICIENT. THE NEXT CONTACT IS THEN MADE ON THE
DOWNWARD LEG.

6. WHEN AIRSPACE F IS ACTIVATED, YOU ARE ADVISED TO AVOID CROSSING
THE APPROACH SECTORS FOR IFR FLIGHTS ABOVE 1200FT MSL.

7. AS A RULE, TAILWHEEL AIRCRAFT, POWERED GLIDERS AND ULTRA-LIGHT
AIRCRAFT SHOULD USE THE GRASS RUNWAY.

8. NO DEPARTURES ARE POSSIBLE ON 4 SEPTEMBER 2010 AND 05 SEPTEMBER
2010 FROM 13:00 HRS TO 14:00 HRS UTC. IN THIS PERIOD, LANDINGS ARE
ONLY POSSIBLE TO A LIMITED EXTENT.

9. ADDITIONAL SHORT-TERM INFORMATION ON AIR MAGDEBURG WILL BE
PUBLISHED AS NECESSARY BY NOTAM AND CAN BE FOUND ON THE WEBSITE
WWW.EDBM.DE.

10. IF THE MAGDEBURG AIRFIELD CANNOT BE USED, THEN EDBC OR EDOZ
ARE SUGGESTED AS ALTERNATIVE AERODROMES.
Parking and Refueling
For all crews, who are not familiar with German language please remain on the frequency 119.300 MHz until further advice
All aircraft landing the grass runway shall taxi immediately to the assigned parking position. The parking position will be assigned by marschal.
After taxing from the grass runway monitor the frequency 123,500 MHz. Please only use the frequency in case of that you need help or if you are called by Magdeburg Info.
MOGAS refuling will be done at your parking position. You get a receipt which you can pay at GAT "C".
If you need AVGAS or JAT A1, please taxi to the end of the grass runway, than taxi wire "A" or "B" to the assigned refueling station. Please monitor 123,500 MHz.
Landing on concret
After landing taxi wire "A" or "B" and monitor 123,500 MHz. Close to GAT "C" a marshal will guide you to the parking position. If you have to refuel AVGAS or JET A1 please inform during taxi on 123,500 MHz Magdeburg Info.
Chart Arrival- and departure procedures
Parking places
Download text of arrival and departure procedures